If you love bathrooms, The Perfect Bath written by Barbara Sallick, the co-founder of Waterworks is a must read.   She started a blog a few months ago around one of her favorite topics, the bathroom.  It's the perfect site for interior designers or anyone redoing their bathroom as a source of inspiration  as well as for those that enjoy history and learning about how products come to fruition.   She did a recent post on the  The Empire Bath by Waterworks and I had to share some of the images with you.  All of these bathrooms make me want buy some lavender bubble bath, pour myself a glass of wine, and relax in the tub with a good book.  If only my bathroom could be so elegant instead my reality is standing in an old shower with some dove soap.  A girl can dream can't she?
This bathroom is so elegant.  I love the oversized gold mirror above with the chandelier hanging down and the touch of fresh flowers.  Yes, I can see myself here.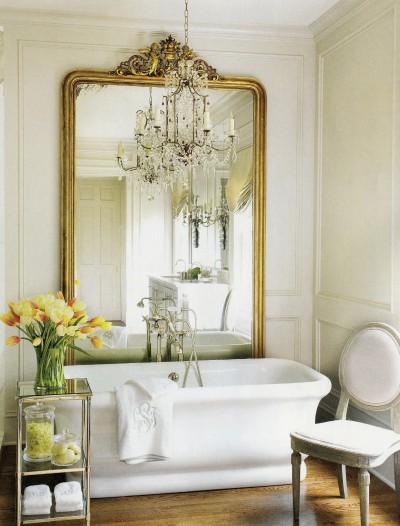 I love the pop of color of this chair (looks like velvet, even better) with the mirror above flanked by two sconces.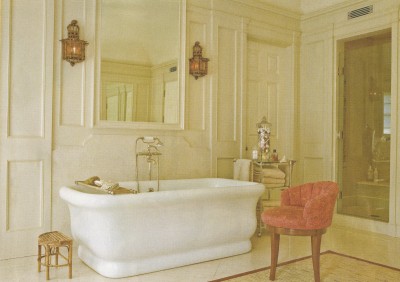 This bathroom below is so me.  I love white Carrara marble anything.  I am not particularly fond of open showers.  That's what I love about this space. I love how the Empire tub sits in front of a half wall in Carrarra marble with the shower behind it making the tub the focal point.
How beautiful is this pop of blue with the white trim.  The Carrara marble backdrop in a create shape adds additional interest.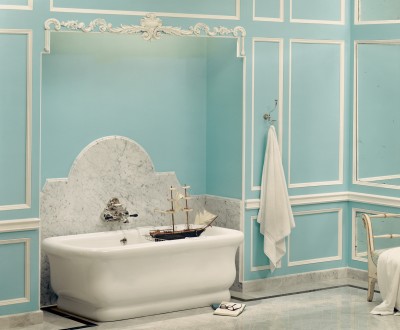 Simple and Elegant
Of course, I love all white bathrooms.  I love the dual sinks across from each other with the wide open space.  It feels fresh.
This is from an unknown source (the bathtub) but look how gorgeous this Empire Tub is in marble.  It feels so luxurious.
A picture of an Empire Tub from an old French Bath Catalogue from the early 1900's.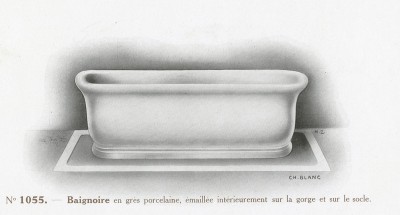 My wish for you this week is that you relax, take a deep breath, and enjoy the bliss of a bubble bath!
I love hearing your comments! Stop by
and let me know your thoughts they always make my day!
Photo Credits:  The Perfect Bath, Velvet and Linen, Architectural Digest