I just got a call from my mom who lives in Connecticut, she was out and about going to Tag Sales in our local area.   I have Tag Sale envy.  Some places say Tomato some say Ta-ma-toe, in Connecticut we say Tag Sale, not Garage Sale, not Yard Sale and in the case of LA not Designer Tag Sale.  As kids we would  get dragged out of bed  and put in the car while my mom, Aunt Pat and neighbor Barbara went from sale to sale every Saturday morning until winter.  We'd be moaning and groaning, especially when they "had" to be there early.   Labor Day is one of the best weekends for Tag Sales because people are transitioning their homes from summer to fall (in regard to decor, clothes, bedding) and it's a great time for them to get rid of stuff they don't need.  I love the bargains you can get back East.  Everyone in L.A. marks their merchandise up, that it's hard to justify knowing what it "would" have cost you if you were back East.  There are bargains here in L.A. but it's  a lot harder for them.  Either way, I'm envious!  I love looking for china for entertaining, paintings, pieces of furniture, lamps, etc.  I've gotten some great deals over the years, how about you?  What's your favorite item or purchase from a Tag Sale or Flea Market?
I use to make these signs and then my mom would run around and nail them up on the telephone poles around our area.
We always put 9 AM because you always have early birds.  They would always show up at 8 AM.
Where the heck were these when I was a kid?  My mom use to make me sit and write out every price tag for each item.
I should have reported her for Child Labor.
The Los Angeles "Designer Tag Sale", which is suppose to be amazing.  I missed the last one.
This is what they usually look like back East (see below).  You have to dig through stuff and it's not usually this organized.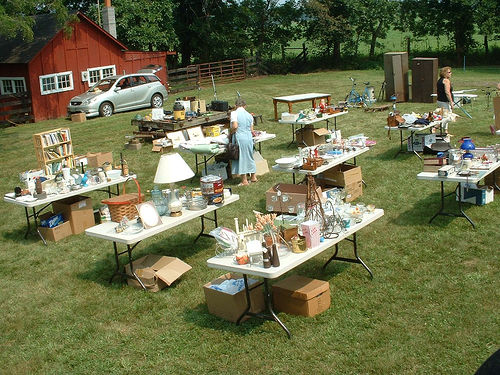 What a great way to display your Tag Sales items. I love this man smoking a pipe. 
Hope you have great Labor Day relaxing and celebrating the end of summer with your friends and family!
Images:  New Rochelle Talk, Apartment Therapy, Habitually Chic, Brittney Stiles Blogspot.