When I think of pin-up girls, the first name that comes to mind is Vargas.  I loved Alberto Vargas's work from the moment I laid eyes on an original lithograph.   A number of years ago, I dated a guy who had one hanging in his apartment. I inquired about it and he shared with me it was an original lithograph by Alberto Vargas. His mom had about 10-15 original lithographs that she had acquired from a gentleman in Northern California.  Original works of Vargas, especially the lithographs, sell for upwards of $5000.00 plus at auction and his paintings for much more.  To see an original in person, simply takes your breathe away.  The level of detail is incredible.
Alberto Vargas was born in Peru and moved to the United States after studying in Europe prior to World War I.  He did poster work and pictures for the Ziegfeld Follies early on in his career and became famous during the 40's when Esquire Magazine hired him to do pin-up girls for the magazine.  He also created a number of calendars during that time under the name Varga Calendars at the request of Esquire.  Later, he had a falling out with Esquire and they would not let him use the name Varga.  After struggling for several years, he worked for the studios and painted many famous women, which included Marilyn Monroe, Ava Gardner, and Jane Russell.  He was later hired by Hugh Hefner at Playboy creating images for the magazine.  He continued to work at the magazine for the next twenty years using his name Vargas and his work was known as the Vargas Girls.  His work is highly collected by many.  See for yourself why I adore his work. 
Alberto Vargas as a young man.
His work was typically a combination of watercolor and air brushing. As opposed to other pin-up artists of his time, he was known for making women's legs thinner and giving them more cleavage.  Some of his works are subtle while others display women partially nude.  However, they are always tasteful.  Here are some samples of postcards below of some of the pin-up girls he produced.  I am thinking of buying some from EBay to put in my bathroom in a grouping.  


This is a sample of the original lithograph my ex had framed.  At the time, things did not end well and I thought about telling him the house got robbed and keeping it for myself.  We're friends now but it was a fun thought at the time.  LOL!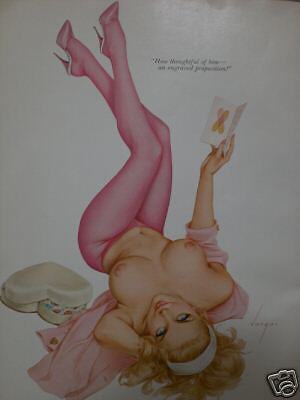 Here's a few samples of old calendar pages.  People are now taking them apart and selling them individually, similar to book plates.  You can find these at the flea market (there is a vendor at the Long Beach flea market that has a ton of these) or EBay is a good resource.



Here are samples of other images he did during the 40's.  His images were popular with the service men.
He is known for painting some of the worlds most famous faces over the years.  In his early years, some of the most notable women according to Wikipedia included:  Olive Thomas, Billie Burke, and Nita Naldi.   Here's a few of the women below that were listed by Wikipedia.  It was fun seeing some of the faces behind the images that he created.  The one below is the most common picture, poster, image, etc. you will see.  It was interesting for me to see her image and how Vargas portrayed her on paper.  Olive Thomas was a silent film actress and socialite.  She later became a Ziegfeld girl and flapper.  She almost looks like a painted doll.  Women just looked so much more glamorous back then.
Olive Thomas as she posed for Vargas. 
Little did I know that Billie Burke who played Glinda "the Good Witch of the North" from the Wizard of Oz. was also one of his models.  I couldn't find any of pictures of her painted by Vargas.  I am dying to know what she looks like as a Vargas Girl.
Ruth Ettings was a singer and actress that later went on to Broadway and made her debut in Ziegfeld Follies. Here she is pictured below and then below that is one of the Ziegfeld Follies' girls.  They believe this image to be her when she was on Broadway.  I had a clear picture of it but then it wasn't working and the only image I can find it hazy. For a clear photo go to Ruth Etting's website and scroll down.
You can see the differences in his work from the early 20's through the 40's and 50's.   However, his images remain a collectors item for many and he today he is considered one of the most famous pin-up girl artists of the 20th Century. 
For more information click on Alberto Vargas.